Our Fleet

Stock-Air Heliworks operate a fleet of five helicopters and all our pilots have minimum of 1,500+ hours flying time.
Robinson R22 Beta II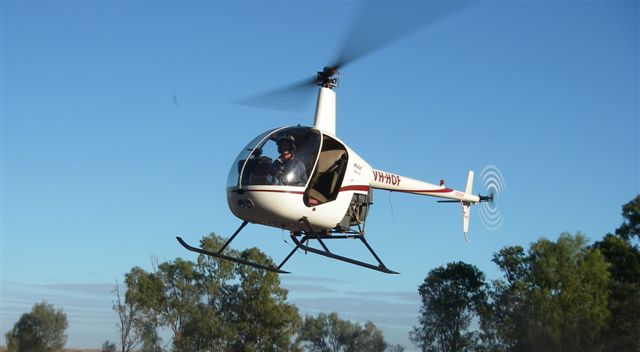 The Robinson R22 Beta II is a popular helicopter with a wide range of applications. These include
Flight training
Livestock mustering
Surveying pipelines and power cables
With seats for two adults (including the pilot) the cockpit offers panoramic views due to R22's large windows and removable doors. Acoustical foam lowers cabin noise.
Specification
Engine Type: Lycoming O-360 four-cylinder, carbureted
Horsepower: Derated to 131 hp for takeoff and 124 for continuous
Maximum Gross Weight: 1370 lb (622 kg)
Approximate Empty Weight (including oil and standard avionics): 880 lb (399 kg)
Standard Fuel (16.9 gal): 101 lb (46 kg)
Auxiliary Fuel (9.4 gal): 56 lb (25 kg)
Passengers and Baggage with Standard Fuel: 389 lb (176 kg)
Max Airspeed (Vne): 102 kts (117 mph)
Cruise Speed: up to 96 kts (110 mph)
Maximum Range with Auxiliary Fuel: approx 228 nm (262 sm)
Hover Ceiling IGE @ 1370 lb: 9400 ft
Hover Ceiling OGE @ 1300 lb: 8000 ft
Max Operating Altitude: 14,000 ft
Electrical System: 14 volt
Robinson R44 Raven/Clipper 2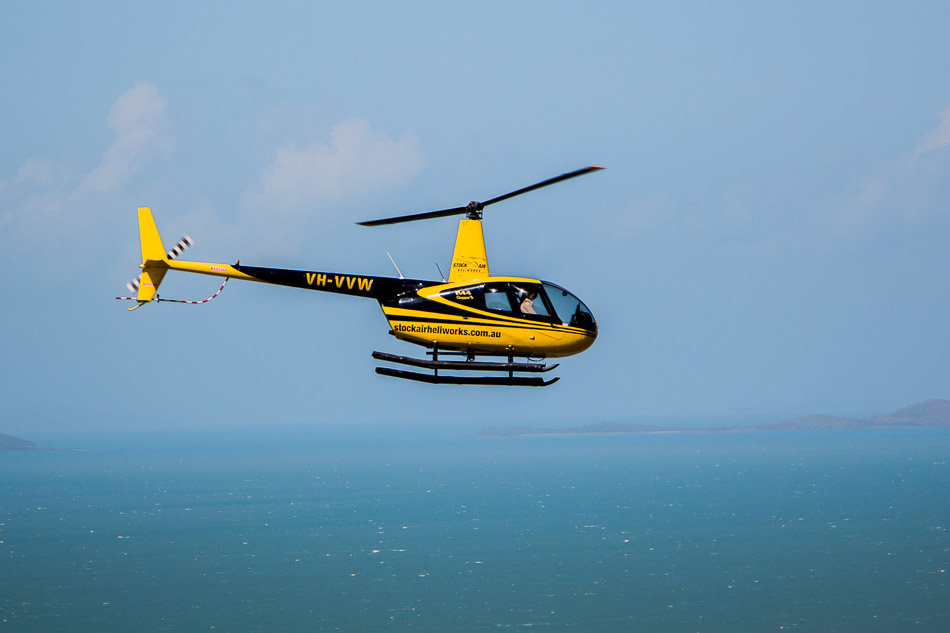 Provide excellent reliability combined with responsive handling makes the R44 the ideal helicopter for private, business, and utility applications. Seats four (including the pilot)
Capable of flying over water to any remote Island (with the safety of floats) there really is no obstacle to where the R44 can travel.
Specification
Engine Type: Lycoming IO-540, six cylinder, fuel injected
Horsepower: Derated to 245 for takeoff and 205 continuous
Max Gross Weight: 2500 lb (1134 kg)
Approximate Empty Weight (including oil & std avionics): 1495 lb (678 kg)
Standard Fuel (29.5 gal): 177 lb (80 kg)
Auxiliary Fuel (17.0 gal): 102 lb (46 kg)
Passengers and Baggage with Standard Fuel: 828 lb (376 kg)
Cruise Speed: up to 116 kts (135 mph)
Maximum Range (no reserve): approx 300 nm (350 sm)
Hover Ceiling IGE @ Gross Weight: 8950 ft
Hover Ceiling OGE @ 2300 lb: 7500 ft
Rate of Climb: over 1000 fpm
Maximum Operating Altitude: 14,000 ft
Electrical System: 28 volt